is the largest interactive STEM event in Ohio, and the final event of the four-day COSI Science Festival.
It is a large-scale, highly visible, outdoor event, where Ohio's many STEM organizations connect with thousands of youth and adults. Get ready for a fun day of engaging experiments and spectacular science where your organization can show off the STEM happening within.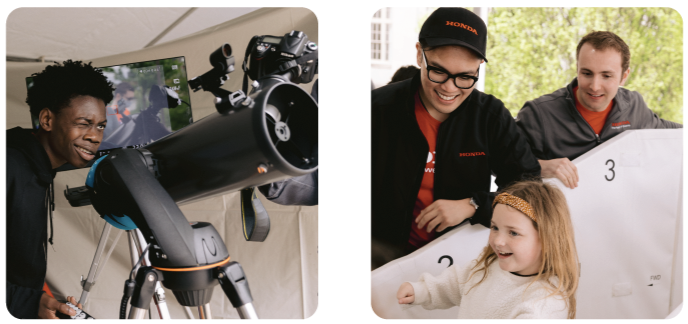 The Big Science Celebration
 is an incredible event, unlike any other, bringing thousands of people to the Scioto Peninsula, including Washington Blvd., Genoa and Dorrian Green Parks, Town Street and COSI, for a day of interactive activities hosted by Columbus's own science, technology, engineering and mathematics focused organizations. This FREE event is open to all, but the primary target audience will be families with school ages children, with a special focus on those with limited access to science education resources.
Explore the 2022 BSC Exhibitor Map
ALL Big Science Celebration exhibitors must design their booths and activities to engage the public in an interactive, hands-on way with some aspect of science, technology, engineering, and/or mathematics. We encourage you to be creative! Help the public understand what your organization does for our community and beyond. Help us address workforce challenges by bridging the STEM skills gap and allowing our community's children to see themselves in scientists and scientists in themselves.
Interested in exhibiting at the BSC?
The 2023 Application window is now closed.
An event of this scale and magnitude involves many costs, (including, but not limited to: permitting fees, equipment rentals, security, labor, etc.). The exhibitor fee allows us to recoup some of these costs so that the festival is sustained for years to come.
We are aware that these costs may prohibit participation for some exhibitors, and we want to work with all groups to make entry possible. If the cost of participation is prohibitive, please reach out to use at [email protected].
Interested in being a Big Science Celebration Food and Beverage Vendor?